---
Accueil > pratiques > Actualités
Women and men in science: Do we need gender metrics? Keynote de Cassidy R. Sugimoto
le 27 avril 2017
14h-17h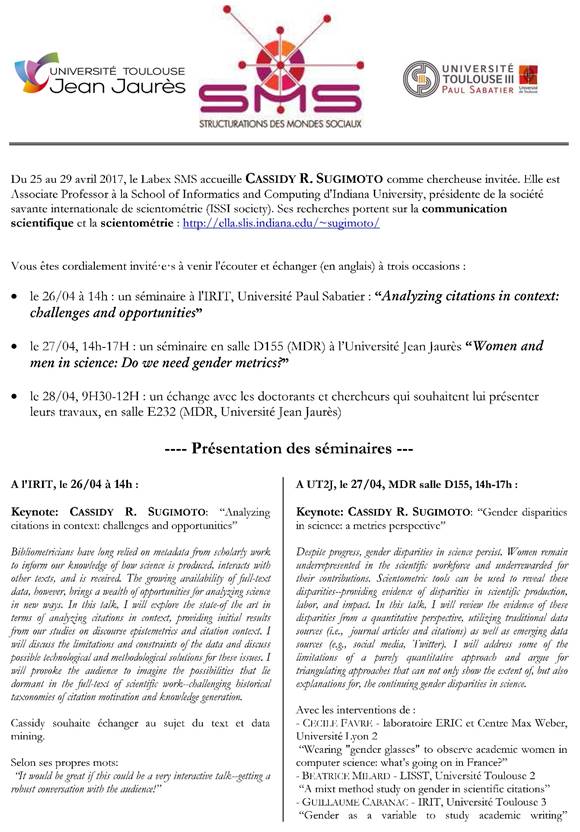 image005.jpg
Le Labex SMS accueille
Cassidy R. Sugimoto
comme chercheuse invitée. Elle est Associate Professor à la School of Informatics and Computing d'Indiana University, présidente de la société savante internationale de scientométrie (
ISSI society
). Ses recherches portent sur la communication scientifique et la scientométrie:
http://ella.slis.indiana.edu/~sugimoto/
Keynote: CASSIDY R. SUGIMOTO
"Gender disparities in science: a metrics perspective"

Despite progress, gender disparities in science persist. Women remain underrepresented in the scientific workforce and underrewarded for their contributions. Scientometric tools can be used to reveal these disparities--providing evidence of disparities in scientific production, labor, and impact. In this talk, I will review the evidence of these
disparities from a quantitative perspective, utilizing traditional data sources (i.e., journal articles and citations) as well as emerging data sources (e.g., social media, Twitter). I will address some of the limitations of a purely quantitative approach and argue for triangulating approaches that can not only show the extent of, but also explanations for, the continuing gender disparities in science.

Avec les interventions de :
- Cécile Favre - laboratoire ERIC et Centre Max Weber, Université Lyon 2
"Wearing "gender glasses" to observe academic women in computer science: what's going on in France?"
- Béatrice Milard - LISST, Université Toulouse 2
"A mixt method study on gender in scientific citations"
- Guillaume Cabanac - IRIT, Université Toulouse 3
"Gender as a variable to study academic writing"


Cette séance, dont la langue de travail sera l'anglais, est ouverte aux étudiant.e.s du Réseau de Masters Arpège dans le cadre du séminaire interdisciplinaire.
Contact :

Béatrice Milard
milard@univ-tlse2.fr

Lieu(x) :

Maison de la Recherche, salle D155

---
Documents à télécharger :